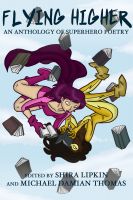 In a Speed-Round Interview, Michael Damian Thomas and Shira Lipkin, editors of Flying Higher, an Anthology of Superhero Poetry have joined Cooking the Books to talk about SUPERFOOD!
Shira Lipkin: I admit that I haven't thought much about what superheroes eat… Except that obviously Lex Luthor is super into cake.
Michael Damian Thomas: Clearly they *all* eat meatballs, as our press is called Meatball Trouble Productions.
And Based on nearly *every* comic I read in the 1980s, superheroes eat Hostess Fruit Pies. Pie theft was a MAJOR issue in the Marvel Universe!
Shira: The 1980s were one long Hostess Fruit Pie theft epidemic. And we know that the cartoon versions of the Teen Titans are super into pizza.