Neo science fiction and fantasy writers discover James D. Macdonald through a variety of channels: he is Uncle Jim on the Absolute Write forums' "Learn Writing with Uncle Jim;" he is a crusader against predatory publishers, and coiner of "Yog's Law," which states: "money flows towards the writer;" Macdonald is also a founding instructor of the Viable Paradise Writers Workshop, which takes place each autumn on Martha's Vineyard. Together with his wife, author and editor Dr. Debra Doyle, he has published thirty novels, and over thirty short stories. Their latest book, The Gates of Time – A Peter Crossman Mystery, will be released by Tor in early 2013.
More important to our purposes, Jim has a wicked recipe for Lime Pie that he combines with a lecture on writing short stories. We've invited him today to join Cooking the Books in closer inspection of this pie-story simile, and to talk about writing and teaching writing.
---
Jim, thank you for joining us to talk about pie and writing. You've discussed this at some length on Absolute Write, and on your own blog, but I think today we have some new questions for you.
Happy to be here.
For our readers, will you revisit why a short story is like a pie? –
A short story is like a pie because, first, you can do one relatively quickly. Second, everyone likes pie.
Third, with both short stories and pie, you can use the finest ingredients in the world and still come up with an inedible mess.
Fourth, if you come up with a mess, you have to get brand new ingredients and try again, using what you learned last time to make a better pie.
For example – if you make an apple pie, and things go badly, you cannot take those now-cooked apples and cook them again. They'll be soggy, limp, and burned around the edges. And the spices will be all wrong.
With some pies, like the lime pie (recipe below), you don't know if you've got a pie or a messy soup until you put it in front of your dining companions and cut it open. Same with a story. When your beta readers read your story, they will tell you whether the story works or not.
If a story doesn't work, you've got to start fresh.
Can you give us an example of a story that didn't work and required a fresh start?
There is a story I've never published and never submitted called "The Magic Box," about computers. I wrote it way back in the '80s when computers were brand new things. The damn thing ran 30-40 pages. "The Magic Box" had one good line in it. I know because I took a black marker and started removing things from the story that didn't work. When I was done, I had one line. Our hero gets into an elevator and discovers the buttons are labeled 1-9 and A-F, and he says, 'Oh no, the elevator has been hexed.'
That story has never been written because it wasn't working, I wrote different stories instead. When you get soup instead of pie, you have to write a different story that does work.
Aren't there any fixes for a story that is absolutely not working?
There are ways you can cheat – you can make that lime pie gel if you add starch to it, or gelatin. For a story you could try adding sex or violence – dinosaurs are always appropriate – for instance. But. You're putting in additives to make something work. Your audience will know. And the next time you make a pie, they might not want to eat it.
And audience is what counts.
Yes. Unless someone is eating that pie, it isn't really a pie yet. Stories don't really exist – you think they do because there are black marks on a neat stack of white paper – but they actually take place in someone's mind. Just as your pie actually takes place in someone's mouth.
Let's talk about ways to start baking a story that works. Why do familiar ingredients, like fairy tales, King Arthur legends, and space pirates, help stories work?
If you are a really talented cook, you can make a kiwi fruit pie without a recipe. However, when you're getting started, it helps to use a recipe and familiar ingredients. Everyone knows apple pie. You know what apple pie should taste like when you have a piece. People know what to do with apple pie: eat it with ice cream. Familiar ingredients are comfort food for your readers. Sometimes what they want before bed is a slice of apple pie.
Would you talk about your favorite comfort food ingredients for stories?
In our own beloved genre, the space pilot in the tramp freighter. That's comfort food. That's the Han Solo archetype, Poul Anderson's "The Makeshift Rocket" – the good guys.
Other comfort food ingredients include the intrepid vampire hunter. The hero who fights monsters without becoming one himself.
Take a look at the Twilight Zone series – every darn one of those was comfort food.
King Arthur – I love me some of that. Our novel Lincoln's Sword (http://www.sff.net/people/doylemacdonald/lincolns_sword.htm) is an Arthurian story. I can write Arthurian fanfic, right? Geoffrey of Monmouth, who wrote the History of the Kings of Britain, who gave us King Lear, Old King Cole. Cymbaline. Anything based on Geoffrey of Monmouth is comfort food.
And dinosaurs! They are always appropriate! Why? Because they are terrifying and yet they are remote and harmless. That's why. Where were you first exposed to dinosaurs? You were a kid, at your local library looking through books and everything was wonderful. Your parents took you to the natural history museum to see dinosaurs, and everything was big and wonderful. Same as with pie. Mom made it for you. It's comfort food. Unlike what that snotty guy in the fusion restaurant gives you: that little sliver of something on a huge white plate with the drizzle of something blue beside it. That's not comfort food.
Other comforting ingredients: your basic jack-of-all-trades incredibly competent hero. That's every single Heinlein story.
Narrative poetry is comfort food: "The Highwayman," "The Inchcape Rock."
How do you mix ingredients to get a good short story?
I like to combine contrasts. Sad and funny. Funny is comfort. Just like when you have a sweet pie, you add something like limes – sour for the contrast. Contrast is important. The sweet and the sour each make the other more intense. If you write horror and put in jokes, the dark places look darker by comparison. For pie, that's a soft center and crunchy crust. But I try to avoid bitterness and the bitter aftertaste – my stories generally have happy endings. Don't want people waking away, looking for a place to die. This is comfort food.
Let's talk about proportions in short stories – how do you judge when you've used too much of one thing or another?
It tastes bad in your mouth when you read it. Read it aloud. When you've got the thing written and it doesn't taste right – sometimes adding a bit more of one thing can bring it back into line. If you can manage contrasts, you can do anything. Did you know that there is a Medieval book called Ovide moralisé that conflates Ovid's Metamorphoses with Christian Allegory? And it works. Contrasts. Pie.
But. Do you want to know the horrible truth?
Surely
The truth is, anything is like pie.
…
So, Jim, now that you've devoured our simile, let's talk about teaching writing for a minute, and why helping young writers reach the next level in their work is important to you.
At one point I was a younger writer. I can't pay back the people who helped me, so I pay it forward. It makes me feel good. Because there are so many things that are unfinished, because I want good stories to read.
I love writing and I love working with writers on their writing.
In 1997, you and Debra Doyle were two of Viable Paradise I's three instructors. And you've been teaching at Viable Paradise ever since.
Yes. Many years ago, there was a woman named Rae Montor who lived on Martha's Vineyard who wanted to put on a convention. She thought it would be cool to attach a workshop to a convention and invited Elizabeth Moon, Doyle, and me. That year, there was a 1:1 student teacher ratio – three students, three instructors. Ms. Moon did the first half of week. Doyle and I did Wednesday through Friday. We weren't there for the entire thing, but we were there.
This workshop was such a success that Rae decided to do it the next year, adding Patrick and Teresa Nielsen Hayden and Lawrence Watt-Evans to the mix. That made four instructors (Elizabeth Moon didn't return, and Patrick and Teresa teamed up as one teacher), and six students. It worked well.
For Viable Paradise 3, our first year at the Island Inn, Steve Gould joined us. We had twenty one students. Two weeks before workshop, Rae Montor died suddenly. Teresa and I called each other instantly. Were we going to go forward to do the workshop anyway? When Rae died, she took her passwords with her. We had no way to contact the incoming students, so the only way through was forward. Since then, we've kept moving forward, finding our stride with a mid-week break and a group of loyal staff, including MacAllister Stone and Katie.
What's kept us going for sixteen years? We love it.
Would you share with our crew of pie tasters how to find your stories?
As it happens, we've got several short stories on our web page. Several links to get you started:  the big list of stories, The Last Real New Yorker in the World, and The Queen's Mirror
Our books and ebooks are also available at major booksellers and at Smashwords.
James D. Macdonald's Lime Pie:
Pie Shell:
Whites of 3 large fresh eggs, at room temperature
1/4 teaspoon cream of tartar
1/8 teaspoon salt
3/4 cup sugar
Heat oven to 300 F. Lightly grease a 9" pie plate.
Beat egg whites in a medium bowl on medium speed until frothy.
Add cream of tartar and salt and beat on high speed until soft peaks form when beaters are lifted.
Beat in 1/4 cup of the sugar, 1 tablespoon at a time, until blended.
With mixer on low speed, sprinkle on remaining sugar and beat until blended.
Spread meringue over bottom and sides of prepared dish.
Bake until lightly browned, about 45 minutes.
Cool in dish on wire rack.
Pie filling:
6 egg yolks, slightly beaten
1/3 cup lime juice
2 and 1/2 Tablespoons grated lime rind
1 cup granulated sugar
1/4 teaspoon salt
2 Tablespoons cold water
6 egg whites
1/8 teaspoon baking powder
1/4 cup granulated sugar
Beat egg yolks until thick and lemon-colored.
Add lime juice, rind, sugar, and salt, then beat mixture until thoroughly blended.
Cook this mixture in a double-boiler until very thick, stirring constantly.
Now add the cold water to the egg whites and beat until stiff but not dry.
Combine baking powder and remaining 1/4 cup sugar and add to beaten egg white mixture.
Beat until stiff.
Fold hot lime mixture into half the egg white meringue; fill pre-baked pieshell.
Cover with remaining meringue.
Sprinkle lightly with sugar and bake 15 minutes in a moderately slow oven (325 F) or until meringue is delicately brown.
Serve cold.
---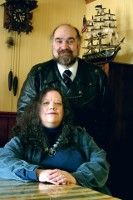 James D. Macdonald attended the University of Rochester, where he learned that a degree in Medieval Studies wouldn't fit him for anything. He went off to sea "to forget," though he's forgotten exactly what. As an enlisted Boatswain's Mate in the Navy, and later as an officer, he saw the world, and discovered that three quarters of it was water. He is a founding instructor of the Viable Paradise Writers Workshop. He and wife Dr. Debra Doyle live in a big 19th-Century house in Colebrook, New Hampshire, where they learned to drink Moxie and collaborate in writing science fiction and fantasy for children, teenagers, and adults.
Together, Jim and Debra are releasing much of their backlist on ebooks – the latest being the Bad Blood trilogy. Their latest book, The Gates of Time – A Peter Crossman Mystery, will be released by Tor in early 2013.
Viable Paradise is an annual week-long sf/f writers' workshop on Martha's Vineyard. Curious? Check it out here. Or, take my word for it – I write about Viable Paradise, here.  Want more? Viable Paradise instructors Elizabeth Bear and Steven Gould visited Cooking the Books in 2012.
The updated library of Cooking the Books interviews is here.