There's a series of questions going around the blogosphere about writing processes. Author Emily Jiang — whose beautiful children's book, Summoning The Phoenix debuted this month to great fanfare (seriously, you should check it out!) — tagged me to talk about my writing process.
And I'm late getting the post up.
Why? Because I was finishing an edit pass, and …. I was late. No excuses. My letting this post go a few days longer than it should is relevant to my writing process.
So – there are six things that underpin how I write. I don't always do all of them, and sometimes I'm a bit of a squirrel-brain (with apologies to the squirrels), but when I think about how I write (*always subject to change), this is what I get:
1. Consistency. I try to follow advice Cory Doctorow once gave me at a convention: Vigorously apply fingers to keyboard. And Mur Lafferty's advice too: write every day, even if it's just a little bit. Sometimes that's incredibly hard, but most days I am able to put a sufficient number of words on the page that I can say, "Lo! I have written!" at the end of the day. Even if I erase the whole thing the next day.
2. Notebooks and drawings and fiddly things. When I need to look at a story or a book from a different perspective, I'll switch planes – moving from computer to printed versions, to my sketchbook. I'll write all over the margins and I'll cross things out. I'm also starting to use the computer's built-in speech tools to read things back to myself. Sometimes what I think is on the page is actually still in my head – and this helps me figure it out. I use 3×5 cards too. But most beloved are my notebooks. I have a notebook of story ideas and very rough drafts. Once a story gets big enough, it gets its own notebook. I know I'm committed to it when the notebook gets a fancy cover – usually made with a card or postcard someone's sent me in the mail. This part of my process is entirely Gregory Frost's doing, for introducing me to the notebooks.
3. Feedback and sounding boards. I run stories and story ideas past trusted readers at various stages in order to check that what I want to say is actually what I'm saying. These readers are wonderful, generous souls who have suffered much in the name of SCIENCE… ART… a good story. I am very grateful to them, and do my best to always repay the favor in kind.
4. Deadlines. You may have noticed that I love deadlines. I especially love the ones that are enough in the future that I can plan, but the other ones are sometimes ok too (because boy, howdy do they ever like to spring up – whether for tech clients or blog posts or whatever!). I've talked about that before – I was a copywriter and a programmer – giving me a deadline is like waving a red cape and yelling Toro. (Too many of these can call into action #5, below.) So I give myself deadlines too. I set goals for when a book should be drafted, and then reverse-calendar out a word count based on that date. If the word count is ridiculous, I recalibrate.
5. Not cheating. This is Chuck Wendig's advice: Don't cheat on your book. It's pretty magic how, when you have a big project, a whole raft of other great projects appear begging you to work on them — now — too. Where were those projects when we were twiddling our thumbs, hmm? So. When I'm working on a thing – especially a thing I am excited about, like a book, I don't cheat on it. Sure I take breaks, and sometimes I do side exercises to stretch my writing, but my focus is on one thing: finishing the project. Which is a little bit of the reason why this post was late.
6. The shiny drawer theory. I will be the first to tell you that I get excited about stories I'm working on and want to send them out asap. Several folks will be the second through ninth people to tell you that I really should wait a day or three, then revise the story again. So I instituted the rule of the shiny drawer. If possible, this is where the story goes to think about what it's done for a couple of weeks, if not longer. Then I take it out and revise it with fresh eyes. Mostly. Sometimes I still send things out to readers. I'm still practicing this one. It's hard.
There are three other questions assigned for this post — what are you working on (here's a list of projects in the works), how does your work differ from others in your genre, and why do you write what you do (because if I didn't, my head would go splaaa?) – I've also covered those in other blog posts, or I will talk about those soon, so I'm just going to wrap it up and tag folks…
---
G
regory Frost is the author of novels including the Shadowbridge series (Del Rey) and Fitcher's Brides (Tor). He is a most excellent teacher, mentor, and friend. A Bram Stoker award finalist, Gregory's short stories have appeared most recently in Asimov's, Supernatural Noir (Ellen Datlow, ed.) and Apex Magazine. He's director of the fiction writing workshop at Swarthmore College. You can follow him on twitter (@gregory_frost). Visit his website at gregoryfrost.com
---
Lauren Teffeau is a novelist and short story writer, with appearances most recently in The Future Embodied. She attended Taos Toolbox with me in 2012 and is an excellent person all around. Follow her on Twitter, Goodreads, and Google+ Visit her website at laurencteffeau.com
---
James D. Macdonald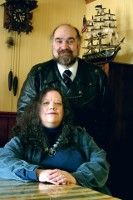 is a teacher, good friend, and mentor to many in the field. Together with co-author Dr. Debra Doyle, they are the author of over 30 novels spanning science fiction, fantasy, horror, young adult, and techno-thrillers. They've been nominated for the James Tiptree, Jr. Award and received the Mythopoeic Fantasy Award for Children's Literature in 1992. You can follow Debra on Twitter, and James and Debra both on Google+. Their website is Madhouse Manor
---
And one unofficial side-tag, because she's already posted, but it's a good column (and it's a great blog!) is Amy Sundberg.
What does your writing process look like? Do you love deadlines or no? What gets your fingers on the keyboard?