Hi friends. It's a little under one week until my illustrated poetry collection, Clock Star Rose Spine, comes out. It feels a little like the thunderstorm that swept through our area last night — lots of big feelings, and loud ones, all very fast. Which is strange, because everything feels time-struck right now, courtesy of the pandemic.
---
To RSVP for the Clock Star Rose Spine launch, please click here, or visit the eventbrite page: https://www.eventbrite.com/e/fran-wilde-clock-star-rose-spine-tickets-160985577195
---
It turns out that launching a book, or doing anything, in a pandemic is extreme difficulty setting — this spring's launch for The Ship of Stolen Words was wonderful and everyone has been incredibly supportive, AND it is also hard because part of the fun of putting a book into the world is connecting with readers, and seeing people at events, and answering their questions. I didn't get to do a lot of that with Ship, although I'm hoping to do more school events this fall.
In the scheme of things — world and weather, life and literature — this observation feels a bit wobbly. We are living through so much, and working hard to help others along the way.
At the same time, Clock Star Rose Spine isn't just any book, it's the book I began working on in Charlottesville, Virginia, as a student, nearly thirty years ago. It's the evolution of poems I wrote under the guidance of teachers who are poets and poets who are dreamers. It got its start when one of those teachers — Rita Dove — challenged me to go swing by my knees upside-down from a jungle gym and think about poetry, then write some more. Clock Star Rose Spine is also the new growth of a manuscript I set aside twenty-five years ago, so that I could support my family, that I picked up again now and then, and then really re-engaged with five years ago. It is a book that has grown and matured as I have, and one that's gotten even more whimsical and weird, just as I have.
I didn't ever expect it to exist in this world. I dreamed, but didn't expect.
What my teacher was asking of me, back when she told me to swing upside-down, was to find a different way of looking at the world. Back then, my poems were what I thought poems should be. What I thought people wanted to see in a poem.
And I did do what she asked (it was a homework assignment because Rita Dove is an amazing professor) and I did learn something. That the world is never what we expect it to be, especially if we take the time to look from different directions.
Then I did the whole swing-by-your-knees upside down thing in a different way, re-engaging with literature and storytelling in a way very different from my MFA poetry studies in Asheville, North Carolina: I began to write science fiction, and fantasy, and horror, in addition to poems. And that was a very big upside-down, for a long time. And still is.
It's changed my life, and how I see everything. It's changed my work. But not my dreams.
When Christine Neulieb and I began working on the collection, and when our ideas and dreams (What if we moved this poem, here? What if we incorporated some of your artwork?) generated more ideas and dreams (could we add a question and answer section about fountain pens and drawing in the back?), transforming this into a multifaceted book that crosses several different borders, the words remained the primary focus. But it didn't really hit me that I'd be out in the world, connecting with readers, when it came time to launch, because I couldn't imagine doing that yet.
I have to look at it upside down, now, and dream, and ask for your help too —
Next week, and for a few weeks after, I and six other writers who cross literary borders and swing upside-down by our knees sometimes will be adventuring out into the aether, hoping to connect with readers about this book and what it means — and what poetry means — to me, and to others, especially now, especially in these times.
The first of these is the big launch-day party at Main Point Books, in conversation with Kat Howard — that is Tuesday at 7pm. I would love it if you could join us there, and beyond — both because I'd love to see you, and because I have a challenge for you. I hope you'll trust me that it may change the way you look at things too. Or maybe even the way you dream.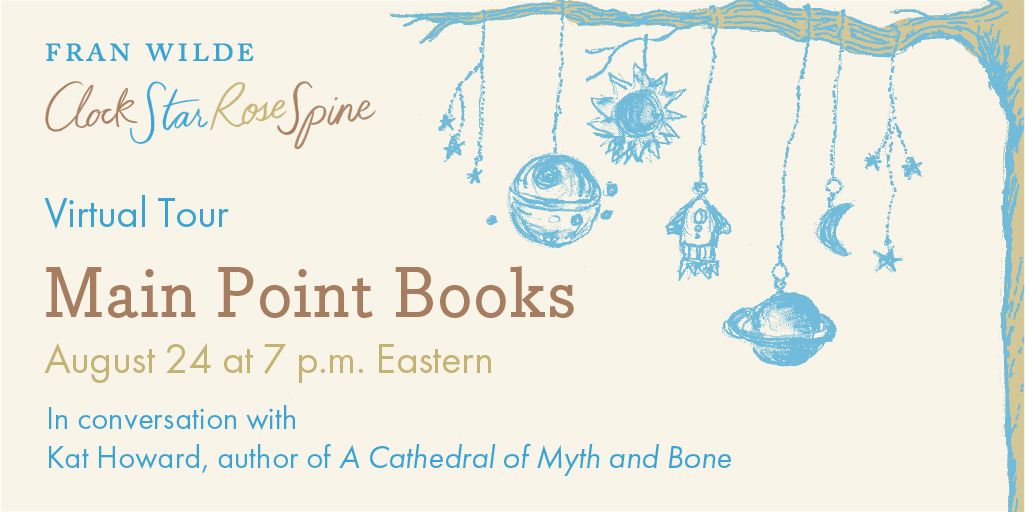 To RSVP for the Clock Star Rose Spine launch, please click here, or visit the eventbrite page: https://www.eventbrite.com/e/fran-wilde-clock-star-rose-spine-tickets-160985577195
I hope to see you there, or at one of the other events for Clock Star Rose Spine.
Thank you so much,
Fran